Rock Springs 4-H Camp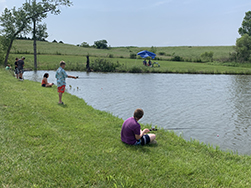 Kansas 4-H Camp takes place at Rock Springs Ranch near Junction City, Kansas. 4-H camp is a natural extension of the classroom.
Since 1946, thousands of Kansas 4-H youth have come to Rock Springs Ranch. They unplug, explore, play, and learn the kinds of lessons that can last a lifetime. Outside of the traditional learning environment, campers grow socially, emotionally, physically, and cognitively. Many make friends for life. It's also just simple, pure fun!
The values of 4-H are at the core of Rock Springs Ranch and they guide all of our programming. Rock Springs Ranch believes the lessons learned at 4-H Camp can create a foundation for success that will last far beyond their visit. 4-H membership is not required to enjoy a 4-H camp experience at Rock Springs Ranch.

Explore more about Rock Springs Ranch 4-H Camp at rockspringsranch4hcamp.org.


KANSAS 4-H CAMP


Registration: Each family registers directly with Rock Springs Ranch for Kansas 4-H Camp. You register online at rockspringsranch4hcamp.org. If you have questions about the sessions or camp experience, it is best to contact Rock Springs Ranch directly at 785-257-3221 or campregistrar@rockspringsranch.org. Rock Springs Ranch will communicate directly to you as your camp date approaches.
Sessions and Dates: Learn about the Kansas 4-H Camp sessions at www.rockspringsranch4hcamp.org/sessions-rates/. There are over night camps for rising 3rd through 12th graders that include three-night or five-night sessions. There is a two-night option for rising 1st through 3rd graders. Rock Springs Ranch even has Family Camp session opportunities!
Camp Cost: Learn about Kansas 4-H Camp rates at www.rockspringsranch4hcamp.org/sessions-rates/. There is an early bird registration rate for those that sign-up early. You will pay for camp directly to Rock Springs Ranch.

Event Scholarships: Before you register, contact your local office and your club leader. There may be club or county-level event scholarships available, and it is important to know how to select payment so your scholarship can be included.

Some counties offer event scholarship opportunities to assist youth with attending 4-H events and activities such as Rock Springs Ranch 4-H Camp! Check out our Awards & Recognition webpage to explore opportunities you may be eligible for, or contact your local Post Rock District office.

Event scholarships may not be able to be applied up-front, so be prepared to pay the fees and then receive your scholarship as a reimbursement.

Full-Ride Campership for Teen Leaders at 4-H Camp:
A Rock Springs Ranch donor is providing full-ride camperships to Counselor in Training (CIT) participants during the 2024 4-H camp season! Rock Springs Ranch is looking for teens age 16 to 17- years, especially rising 12th graders, to participate. Participants will receive camper care training and counselor experience, in addition to "camp" time with peers. Register to be a CIT as soon as possible at rockspringsranch4hcamp.org!
Camp Transportation: Post Rock District does not provide transportation to and from Rock Springs Ranch 4-H Camp for any participants or counselors. Rock Springs Ranch 4-H Camp transportation information can be reviewed at rockspringsranch4hcamp.org/transportation/.

Camp Chaperone: Post Rock District staff do not serve a chaperone role at 4-H Camp. Rock Springs Ranch will hire a full staff to support, supervise and engage camp participants during their experience at camp.

District Camp Session: Post Rock District does not select a specific session as a priority camp for 4-H members in our extension unit. Families are encouraged to select the session that is the best fit for their youth. Some 4-H clubs or groups of friends coordinate a session to attend together, and that is great! Camp sessions fill as registrations are received, so sign up early to reserve your preferred spot.
Rock Springs Ranch 4-H Camp Parent FAQs: rockspringsranch4hcamp.org/parent-faqs/