Dolly Parton's Imagination Library
The Dolly Parton Imagination Library is a literacy program for young children. The program is available to the youngest residents in the Post Rock Extension District.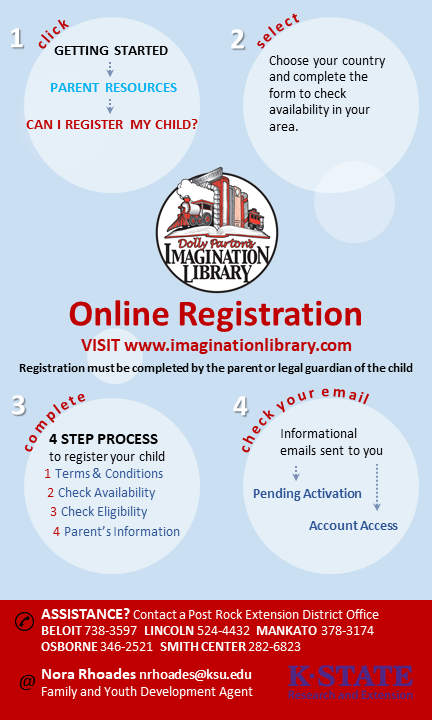 What Is It?
Dolly Parton's Imagination Library is a 60 volume set of books. Each month a new, carefully selected book will be mailed, in your child's name, directly to your home. By mailing high quality, age-appropriate books directly to a child's home, the Dolly Parton Imagination Library encourages children and their families to be excited about books and to feel the magic that books can create. Reading is a valuable experience for young learners as it promotes positive brain development, helps a child understand the world around them, and enhances positive relationships with the caring adults they rely on. To learn more about Dolly Parton's Imagination Library visit www.imaginationlibrary.com.
Who Is Eligible?
Preschool children ages birth to five who are residents of a county with an active Dolly Parton Imagination Library program are eligible to participate. All counties in the Post Rock Extension District have an active program. These counties include Jewell, Lincoln, Mitchell, Osborne and Smith.
Is There A Cost?
Books received through Dolly Parton's Imagination Library are a free gift. There is no cost or obligation to your family. The Dane G. Hansen Foundation graciously provides financial support for the local programs. To learn more about the Dane G. Hansen Foundation's community work with literacy initiatives visit www.nwkansasreads.org.

What Are My Responsibilities?
1) Be a resident of the county program you are enrolling in.
2) Submit an official registration form, completely filled out by parent or legal guardian. In some cases, online registration is accepted.
3) Notify your county's program manager any time your address changes, or make changes via your online parent account. Books are mailed to the address listed on the official registration form. It is your responsibility to properly report an address change in order to continue receiving books.
4) Read with your child.
When Will I Receive Books?
Eight to ten weeks after your registration form has been received, books will begin arriving at your home and will continue until your child turns five or you move out of the county you are enrolled in.
Additional Questions?
To find out more about registering your child for the Dolly Parton Imagination Library, contact a Post Rock Extension District Office.
How Can I Help Promote This Program?
Contact Nora Rhoades, District Family and Youth Development Agent, to discuss promoting the literacy program in your community or at your organization/business. She is willing to schedule a time to present to your group about this program and the value reading brings into the lives of our earliest learners.
County Specific Registration Information
Jewell County, KS ―Paper and online registrations accepted. The program is presented by the Jewell County Resource Council, contact Amanda Anderson. Submit registration to:
Jewell County Resource Council
408 N. Commercial StreetMankato, KS 66956
Lincoln County, KS ―Paper and online registrations accepted. The Friends of the Lincoln Carnegie Library and the Lincoln County Health Department present the local program. Submit registration to:
Lincoln County Health Department
114 West Court StreetP.O. Box 187Lincoln, KS(785) 524-4406
Mitchell County, KS ―Paper and online registrations accepted. The local program is presented by the Post Rock Extension District and the Mitchell County Community Foundation. Submit registration to:
Post Rock Extension District – Beloit Office
115 S. HerseyBeloit, KS 67420Mitchell County Courthouse Basement(785) 738-3597
Osborne County, KS ―Paper and online registrations accepted. The local program is presented by the Post Rock Extension District and the Osborne Community Foundation Inc. Submit registration to:
Post Rock Extension District – Osborne Office
113 N. 1
st
StreetOsborne, KS 67473(785) 346-2521
Smith County, KS ―Paper and online registrations accepted. The local program is presented by the Post Rock Extension District and Smith Center Elementary. Submit registration to:
Post Rock Extension District – Smith Center Office
P.O. Box 287Smith Center, KS 66967Smith County Courthouse Basement(785) 282-6823