Post Rock District Wheat Demonstration Test Plots
Thanks to our cooperators for the 2021 Wheat Plots: Calvin Bohnert, Brady Coover, Marty Fletchall, Kelsey Remus and David/Kaid Sasse.
Each year we cooperate with producers to find a plot of land, gather seed, and plant demonstration plots. With the increasing number of varieties farmers have to choose from, the plots exhibit how the variety performs locally. "Seeing is believing" is a unique concept with Crop Demonstration Test plots that are utilized in our Extension district. So if you are interested, don't hesitate to give me a call.
2021 Demonstration Plot Results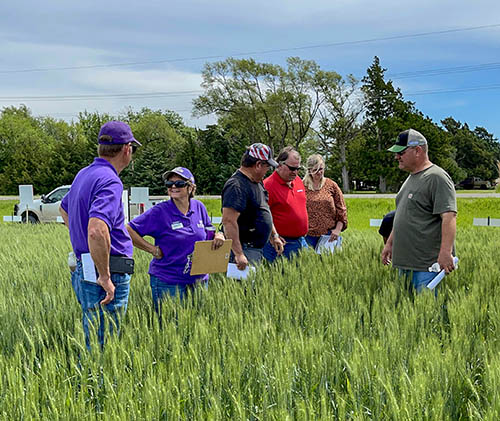 2020-2021 Wheat Variety Descriptions
Wheat planting diagram JW Calvin Bohnert
Wheat planting diagram LC Brady Coover
Wheat planting diagram OB Kelsey Remus
Wheat planting diagram SM David Sasse
2021 Summer Plot Tour Series
Kickoff Video from our Interactive Outdoor Classroom Summer Crop Plot Tours from the KSU Agronomy Experiment Plots
2021 Wheat Test Plot Tour
Osborne Wheat Trial Plot Planting with Sandra Wick, K-State Research and Extension Agent
NEW 2020 KSU Wheat Variety Performance Booklet
The New KSU Wheat Variety Performance booklet in our PRD Offices in Beloit, Lincoln, Mankato, Osborne or Smith Center.
2020 Demonstration Plot Results
Wheat Yield Report Osborne - "Abandoned" weed pressure
2019 Demonstration Plot Results