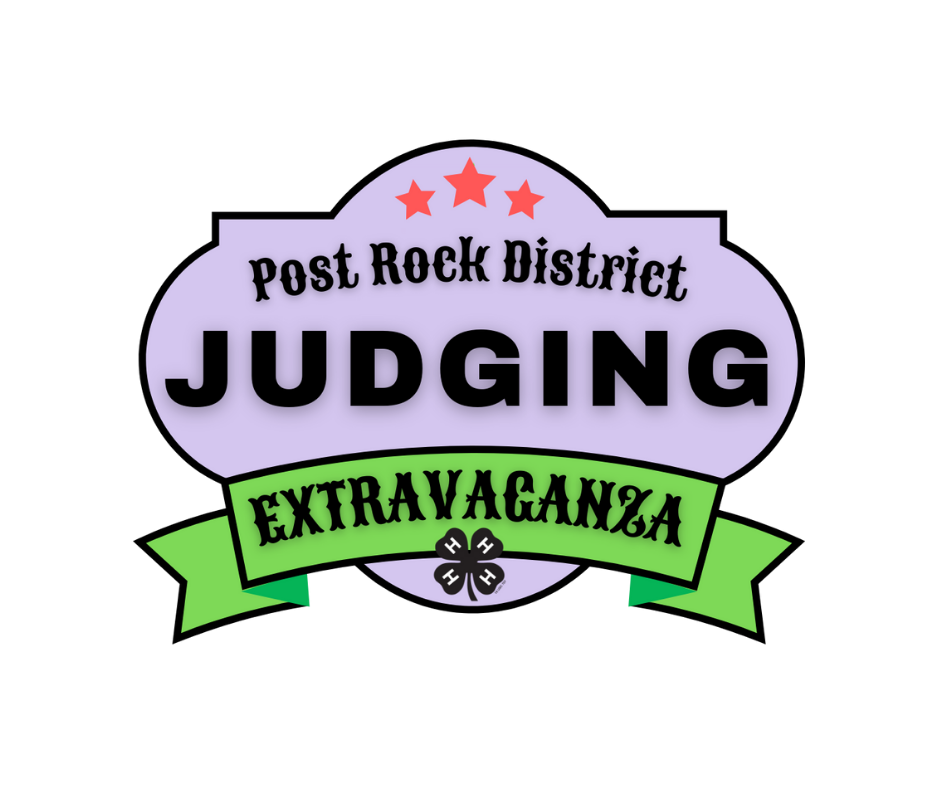 2023 Judging Extravaganza
Come one! Come all! Marvel at the power of 4-H!


4-H members are invited to challenge your project knowledge!

Saturday, June 3, 2023
8:30 to 11:30 a.m.
Vesper Community Center (1247 N 120th Rd in Vesper, KS – Lincoln County)



2023 Judging Extravaganza Flyer


2023 Judging Extravaganza Details
Come-and-go Judging Extravaganza! Plan 2 - 2 1/2 hours to complete the entire experience.
The event will open at 8:30 a.m. You cannot begin the experience after 11:30 a.m., but you do not have to be completed by this time (we'll wait for you to finish).
Must be actively enrolled in 4-H in Kansas.
Junior, Intermediate and Senior Divisions are based on age before January 1 of the current year. Juniors = 7-9 year olds; Intermediate = 10-13 year olds; Senior = 14-18 year olds. Cloverbuds can participate for experience only.
Individuals complete a variety of judging contests specific to the registered age division. It is not required to complete judging in all project areas. Only individuals completing all contests will be eligible for overall awards.
Team competition is optional. Register as an individual and note your team on the form or at event check-in. Team members can represent any age division, and they do not have to be from the same county or club. Teams must complete all eligible contests, and all members will be scored. Team members do not need to be present at the same time.
There will be no reasons presentation required, and reasons will not contribute to contest scores. There will be an optional Reasons Skill-Builder activity to boost your communications confidence. The skill-builder will take approximately 15 minutes.
No outside resources such as cell phones, study guides, or notes prepared in advance are allowed when you are judging.
Individual and team prizes will be awarded and announced at a later date after scores are tabulated.
2023 Study Materials
Agronomy
CROPS
Crops judging classes will be available for all age divisions. This will include identification of plants and seeds for crops, forages and weeds common in our Post Rock District region. Additionally, there will be an opportunity to test your knowledge of general crop and forage information common in our region.
Crops Identification Study Guide
Grain Sorghum Production Handbook
Animal Science
Communications
Each age division will be given the opportunity to test your knowledge about important life skills related to being a strong communicator.
Fishing
Foods and Nutrition
Horticulture
There will be horticulture judging for each age division. This will include plant identification. While there will be a focus on flowers, other common plants in our region may be included to ID. Additionally, there will be an opportunity to test your knowledge about plant care and common parts of plants. Refer to the
Kansas 4-H State Horticulture Judging website
for study resources.
Money Management
Money Management classes for all age divisions will test your knowledge about using money to meet your goals. You will think about how to plan ahead with your financial needs and how to stay organized with your resources so you can protect your money and other assets.
Photography
Sewing and Fiber Arts
Visual Arts
Wildlife