Newspaper Column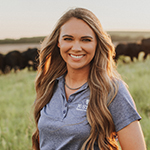 Blaire Todd
Post Rock Extension District
Livestock Production Agent
785-738-3597
Current Articles
Planning for the Third Trimester

The third trimester of pregnancy is a crucial period because of the rapid growth the fetus undergoes and because it is our opportunity to improve cow body condition prior to calving if needed.
Forage Analysis: What Numbers Do I Need?

Most analytical laboratories have many analysis packages which encompass the most common procedures or numbers that a nutritionist or producer needs to know about their feeds.