Sandra's Radio Program
Listen to Latest Program
| | |
| --- | --- |
| | There is still time to control or kill the volunteer wheat before you attempt to plant your 2023 wheat crop. |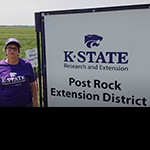 Producers are evaluating their performance of their 2022 wheat varieties in considering new varieties to plant in a couple of months.
Importance of having a plan for controlling weeds in your wheat stubble.
Wheat that has been stressed by drought and extreme heat temperatures during the critical growth stages can definately have some seed quality concerns.
Fusarium Head Blight is a fungal disease that effects the developing grain and tends to be worse in cool, wet conditions.