Sandra's Newspaper Column
Current Issue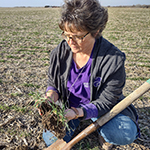 Is our wheat condition due to drought, fertility or disease concerns or ALL the above?
Let's start with the obvious cause……. Drought!!! The dry conditions that we have been experiencing, as you know, have caused significant concerns for the wheat crop
For more than 230 years, agriculture has been the vital thread in the fabric of our nation. America's farm and ranch families represent the cornerstone of our freedom and way of life – now and in the future.