Member Achievement Pins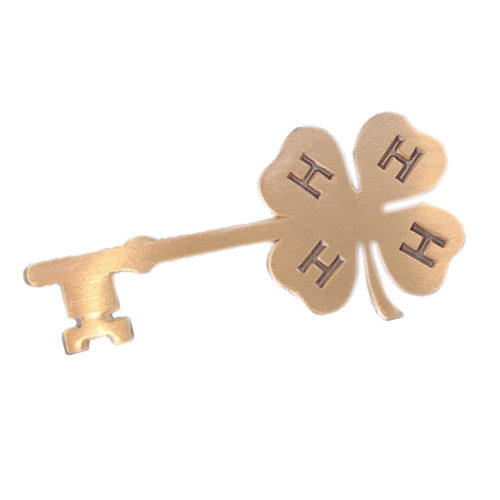 Find the applications for Member Achievement Pins and the Key Award at the Kansas 4-H website > Resources > Awards & Recognition.

Kansas 4-H Member Achievement Plans (Pin Applications)
Achievement pins recognize 4-H members as they reach milestones throughout their 4-H journey. The pins are awarded in a series. As a member's 4-H journey progresses, the achievement pin requirements expand to challenge individuals to explore and engage in more opportunities to develop life skills. Post Rock District counties use the Member Achievement Plans (pin applications) set forth by Kansas 4-H. There are no county-level forms.
Kansas 4-H Key Award
The Kansas Key Award is one of the highest honors awarded to 4-H members across Kansas. As a 4-H award, the applicant needs to highlight 4-H related events, activities and achievements accomplished within the 4-H club, county/district, region or state. The Key Award Application is set for by Kansas 4-H.

Application Deadline is October 3
At the end of the 4-H year, members must apply to be considered to earn an award. The deadline to apply for a 2021-2022 4-H year pin award is October 3, 2022. By the end of the business day, youth need to have all required materials submitted to the local Post Rock District Office.
Helpful Information
Members work toward the requirements of a pin throughout the 4-H year (October 1 – September 30). Pin applications ask members to highlight 4-H and project-related events, activities and achievements accomplished within the 4-H club, county/district, region, state, or beyond. In-person, hybrid, virtual, and distance learning events and activities are able to be considered as part of the member's experience.


Submission of an application does not guarantee a member will receive the desired pin award. Applications are reviewed by a committee organized by the Post Rock District Team. Awards are announced in coordination with each county's annual achievement ceremony/celebration.


Applications can be typed or legibly handwritten.


Applications must have the requested signatures before it will be considered by the review committee. The signatures confirm that the information on the application is true and honest. A 4-H Club Leader is not required to sign a member's application if they cannot attest that the member's listed participation and experiences are accurate and correct.


The expectations outlined on each pin application must be fully met in order to be granted the award. This includes any stated requirements to complete and submit a Kansas 4-H Permanent Record, Personal Page, Project Record, etc.


There are some cases where a pin application will state to complete the current year's record book, but does not outline what specific documents to include. In Post Rock District this means to include the 4-H Permanent Record and Personal Page. A Project Record is encouraged, but not required in these situations.


When a Project Record needs to be submitted, unless otherwise stated on the application, a Kansas 4-H Project Record for at least one (1) 4-H project enrolled in the current year must be completed.
Special Considerations
Post Rock District 4-H members need to engage through in-person, hybrid, virtual, and distance learning opportunities in order to meet the requirements of the respective award. If there is a requirement that was completely unavailable due to no delivery method mentioned above offered at a local, district, regional, state, or national level, please note it on the application. You can attach a supplemental document sharing two (2) ways you adapted, adjusted or substituted an experience in order to remain active. Permanent record, project record, and club meeting requirements cannot be waived with a substitute activity. This information will be considered by the review committee. The 4-H Key Award can be submitted using the original application or the alternative application, as posted on the Kansas 4-H website for the Key Award. The Key Award is the only award application that has a modified form available during the pandemic programming years.