4-H Club Seal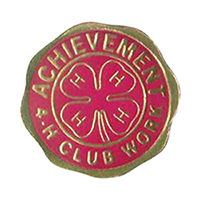 The 4-H club seal award is a district-wide recognition opportunity for the Post Rock District's 4-H Youth Development Program.

2022-2023 Post Rock District 4-H Club Seal Application
Directions: As a requirement is met, mark completed and make a note to describe the effort. Do not use the same activity to meet more than one requirement. Club membership is based on enrollment as of January 1 of the current 4-H year. Requirements must be met during the designated 4-H year, October 1 – September 30.

Deadline: October 2, 2023 (because October 1, 2023 is not a business day)
The deadline to apply for a club seal is October 1, immediately following the completion of the program year applying for. Must apply to be eligible. Submit to your local Post Rock District office.

What is a club seal? A club seal is awarded to a Post Rock District 4-H community club at the conclusion of each participation year when the requirements for a seal are met. The club seal award is a district-wide recognition opportunity for the Post Rock District's 4-H Youth Development Program, and all 4-H community clubs affiliated to and in good standing with the Post Rock Extension District are eligible.

The seals, ranked in ascending order of difficulty are: white, red, blue, and purple. A 4-H club may try for any seal without regard to the seals previously received.

Annual Application Expectations: The award requirements and expectations will be reviewed annually under the supervision of Post Rock District's Youth Development Extension Agent, and any updated expectations for the incoming participation year will be shared with 4-H club leadership at its earliest convenience. If you have feedback, please share it with a Post Rock District Office by August 1 so it can be considered as the next year's application is finalized.