4-H Club Recognition Club Seal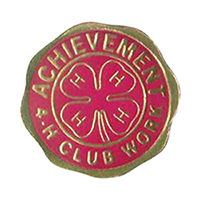 Club Seal: The 4-H club seal award is a district-wide recognition opportunity for the Post Rock District's 4-H Youth Development Program. A club seal is awarded to a Post Rock District 4-H community club at the conclusion of each participation year when the requirements for a seal are met. Learn more about the 4-H club seal award at Post Rock District 4-H Club Recognition Summary.
4-H Club Seal Application_Post Rock District_2021-2022_printable pdf
Requirements must be met during the October 1, 2021 – September 30, 2022 4-H year. Beginning with this 4-H year, all Post Rock District 4-H clubs need to complete the requirements of the district-wide application to be considered for earning a club seal. There are no county-level applications.
Check frequently throughout the year to avoid missing any requirements for the seal your club is working toward. As a requirement is met, mark the space provided and give the information requested. Do not use the same activity to meet more than one requirement. Club membership is based on enrollment as of January 1 of the current 4-H year.
The deadline to submit is October 1, 2022. Submit by email or as hard copy to your local Post Rock Extension District Office. Late submissions will be lowered points and may not be eligible to be judged.
Special Considerations: Recent 4-H program years have become less than "normal" due to ongoing limitations presented by the pandemic. Again, this program year, clubs can attach a supplemental document explaining adaptations, adjustments, or activity substitutions made to remain an active club while following current COVID-19 protocols. This will be taken into consideration by the review committee during evaluation.