4-H Club Recognition Club Charter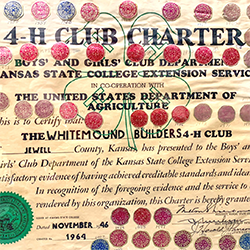 The 4-H charter is the only document that officially recognizes a 4-H club. The 4-H charter is a symbol of recognition as a 4-H club that subscribes to the Kansas 4-H Youth Development Program. Learn more about the 4-H charter in the Post Rock District 4-H Club Recognition Summary.
To learn more about Kansas 4-H club expectations, visit the Kansas 4-H Website > 4-H Clubs.

If you are interested in exploring chartering a new 4-H club in Jewell, Lincoln, Mitchell, Osborne, or Smith Counties it is important to contact your local Post Rock District office as soon as possible. You will work closely with the District's 4-H Youth Development Team to complete the steps required in Kansas for Starting New 4-H Clubs.